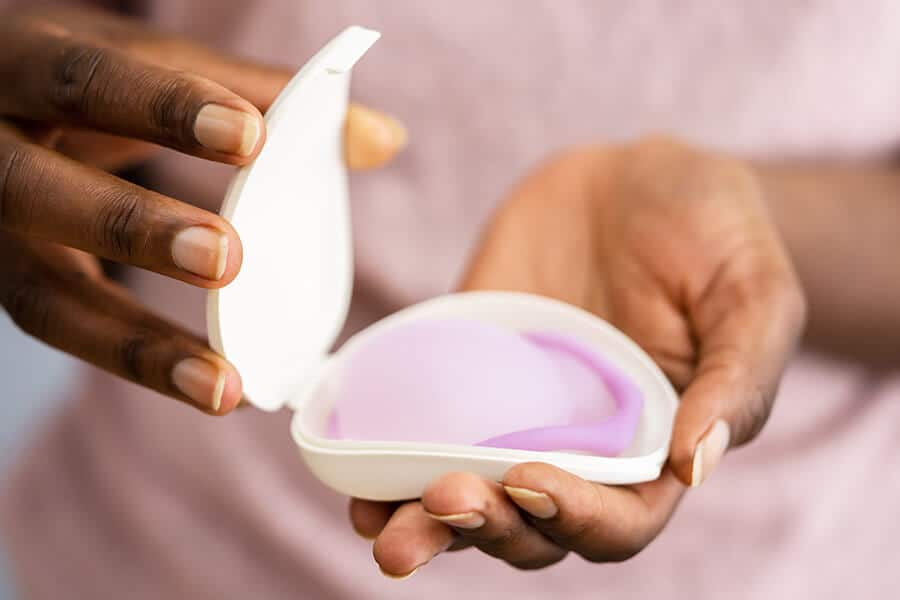 It may surprise you to learn that diaphragm birth control has existed for hundreds of years. However, it has recently enjoyed a resurgence in popularity as a birth control option thanks to a modern redesign. Unlike previous diaphragms, the Caya® contoured diaphragm is especially made for the female anatomy, making it more comfortable, effective, and easier to use. But what exactly is diaphragm birth control? How does it work? What makes Caya different from other birth control methods? In this article, we'll explore everything you need to know about diaphragm birth control. Read on!
What is Diaphragm Birth Control?
Simply speaking, diaphragm birth control creates a barrier over your cervix so sperm can't reach the eggs in your womb (uterus).
The Caya diaphragm is a shallow oval silicone cup, shaped like a saucer. You bend it in half and insert it in your vagina before you have sex.
That oval dome shape covers the cervix and creates a barrier to stop the sperm from swimming past it to fertilize the egg. Think of it as a specially-designed warrior's shield, that is soft, flexible, and comfortable.
Caya is most effective at preventing pregnancy when you add a spermicide to the diaphragm before you insert it, which also provides lubrication for ease of insertion and comfort. After sex, it is important to leave the Caya diaphragm in for at least six hours to reduce the risk of becoming pregnant.
Is Caya diaphragm birth control easy to insert?
Inserting a diaphragm might seem intimidating, but it's easier than you think. For those who already use a menstrual cup, inserting a diaphragm will come naturally. About 80% of women insert it correctly just following the directions in the package. Your provider can also show you how to insert it correctly if you have difficulty.
We have detailed instructions on our website under How to Use Caya, but essentially:
You'll apply a water-based contraceptive gel to the diaphragm.
Insert it before sex to ensure it covers the cervix.
Leave Caya in place for 6 hours after having sex.
Clean with soap and water before storing or reusing.
How do you order Caya diaphragm birth control?
In the United States, you need a prescription to order the diaphragm. You do not need a pelvic exam or a fitting, as Caya is a one-size-fits-most diaphragm.
There are two ways to get the Caya diaphragm prescription.
A Telehealth Provider
The easiest and most convenient way to get Caya is via a telehealth provider. You'll Meet with a provider online from the convenience of your home and receive a prescription for the Caya diaphragm. Learn more about Caya telehealth prescriptions here.
Once you receive the prescription, have your Caya delivered directly to your door through our Mail Order Pharmacies or you can have it filled at your local pharmacy. A list of mail order pharmacies that offer Caya can be found here.
What are Caya's benefits?
You control when you use it and when you don't. Unlike birth control pills or the IUD, a diaphragm does not stay in your body all the time. You insert it a couple hours before or just before you decide to have sex. You use the Caya diaphragm only when you need it, and if you're ready to get pregnant there's no waiting period, because…
A diaphragm is a hormone-free birth control option. The Caya diaphragm is a device inserted at the moment you need it. For women with medical conditions, undergoing cancer treatments, or for mothers who are breastfeeding, hormone-free birth control is a big benefit.
The diaphragm is reusable. The Caya diaphragm is durable and effective for up to two years. That makes it an affordable option.
It's easy to take the Caya diaphragm with you. The diaphragm comes in a small, discrete white clamshell container, which makes it easy to take on trips, or in a purse for a night out. Which means you'll have a birth control option with you when you need it.
Want more information about Caya diaphragm birth control?
Caya's unique, contoured shape was designed with the input of women to fit the female anatomy, and we're here to answer questions you might have. Check out our FAQ on our website. If you still have questions, contact us via phone or chat with a customer service representative, or sign up for our newsletter. At Caya, we're reshaping your options for contraception.